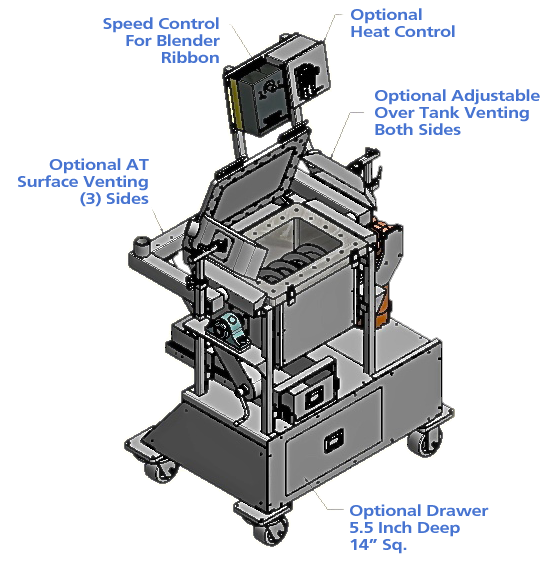 Laboratory Ribbon Blender – PB
Burrow Industries, Inc. has developed a new tool for the processing industry. Burrow's is now presenting the Laboratory Ribbon Blender-PB to its worldwide customers.
Meet our ultimate, stainless steel, Laboratory Ribbon Blender-PB that provides smooth, flawless operation and lets you control the speed of operation in forward and reverse. The fit and finish tank is a quarter cubic foot defined for your prestigious laboratory and efficient production demands.
This tool is designed to accurately scale up from a .25 cubic foot batch size in the lab to full scale in a processing plant. Our LRB is designed to mix powdered ingredients with the ability to add other liquids to the dry mix. The tank can be constructed to heat or cool the mix during blending.
Further, the addition of high speed Smizzers can cut ingredients to desired sizes and we offer other options to meet your needs. Please Contact Us for sales information and to learn more about the Laboratory Ribbon Blender-PB.
Ribbon Motor
½ Hp. reversing
Variable speed
145 lbs. torque
110 volt DC
Right angle rear box
20 Amp circuit
Materials
Stainless Steel
303/304
Except motors, couplings, bearings
Tank Capacity
.25 cubic feet
Fit and finished
Tank Lid
Acrylic lid 3/8"
Access port
Tank Discharge
Rotary ball valve
Catch pan
Ribbon
Stainless Steel
Motion
Removable Radial
Linear
Castors
Stainless Steel
2 Swivel/locking
2 Fixed
Safety Switch
On lid
Tank Discharge
Hose connection
Other needs
Smizzer System
1 Hp.
Motor 2500
Max. Rpm.
Variable speed
3 cutting blades
Heat Tank
Heat up to
180° F
Cool Tank
Cool down to
___° F
Vacuum System
Adjustable intakes
Over tank
Surface venting
Liquid Spray Bar
Spray nozzles
Tank or lid
Storage Shelf
Attachment
Light
LED
Adjustable arm
Lid
Open grate
Stainless steel
Storage Drawer
Storage area
Timer
On/Off
Set run time
Tank Discharge
Hose connection
Other needs
Customizing
Unique applications
Special ribbons
Uncommon components
Customizing Is Available For Unique Applications