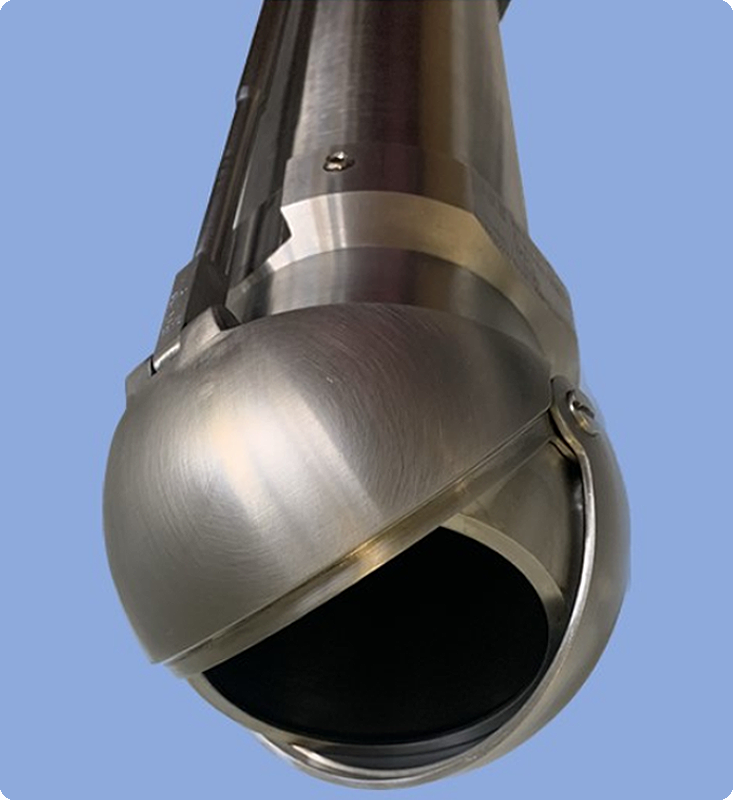 Positive Flow Control™ Valve
The Positive Flow Control™ Valve is an ideal cut off valve for auger filling of fine products like flour, cake mix, sugar, ground coffee, cappuccino, and malt. It is also used with coffee beans, seeds and other dry products that are filled in bags and other containers. The Positive Flow Control™ Valve is made of stainless steel 303 which is FDA approved for food. Our valve has been used for many years by several large food companies for filling their bags and now Burrow Industries, Inc. is offering it to other baggers through our web site. Patent: USD6219135, USD 654,149S, US8,413,954B1
---
The spherical doors of our valve have a tightly machined tolerance between the inner surface and outer shell, which makes this design unique when compared to other valves. This design keeps the product in the bottom of the bag and controls drift of product onto the seals of the bag. Optional coatings can be applied for unique applications.
Our valve has a positive shut off of material with each close of the doors, which enhances bag weight control. Many bags are filled at 20 to 60 cycles per minute but due to our positive shut off these numbers can increase relative to line speed and computer programming at faster rates. Our Positive Flow Control™ Valve can be fitted to new or existing machines and currently being used on many major manufacturers machines. Teflon seals are now available for varied liquid applications.
Parts below vary depending upon valve selected. Each valve is complete, tested, and ready for operation upon leaving Burrow Industries, Inc.
Material: Stainless steel 303 for Ball Valve End Connector
Ball Valve End Connector (Standard Sizes: 24, 26, 28, 32, 34, 36, 38, 40, 44, 48, 52, 62, Six Inch)
Connection Rods
Cylinder
Mounting Plate
Pillow Block Bearing
Cylinder Mounts
Cylinder Pivot Shaft
Pivot Arm and Mounting Block
Teflon Seals
Our control valves come in seven sizes at this time. Below is a chart of the current sizes available. Burrow Industries, Inc. will make a custom size to meet our customer's needs. Please contact our sales staff for a quote.
Dimensional Chart For All Valves
| Burrow Pt. No. | Minimum ID of Forming Tube "B" | Funnel Offset "C" | Across Rods "E" | Across Pivot "F" | Hub Diameter "G" |
| --- | --- | --- | --- | --- | --- |
| 24 | 2.52 (64.00 mm) | 1.97 (50.00 mm) | 2.32 (58.93 mm) | 2.27 (57.70 mm) | 1.96 (49.80 mm) |
| 26 | 2.75 (69.85 mm) | 2.38 (60.45 mm) | 2.65 (76.31mm) | 2.44 (61.976 mm) | 2.00 (50.8 mm) |
| 28 | 3.16 (80.26 mm) | 2.38 (60.45 mm) | 2.96 (75.19 mm) | 2.71 (68.84 mm) | 2.38 (60.45 mm) |
| 32 | 3.38 (85.85 mm) | 2.5 (63.50 mm) | 3.18 (80.77 mm) | 3.0 (76.20 mm) | 2.69 (68.33 mm) |
| 34 | 3.69 (93.73 mm) | 3.0 (76.2 mm) | 3.44 (87.4 mm) | 3.32 (84.33 mm) | 2.87 (72.9 mm) |
| 36 | 3.72 (92.50 mm) | 3.0 (76.20 mm) | 3.52 (89.41 mm) | 3.32 (84.33 mm) | 3.00 (76.20 mm) |
| 38 | 3.80 (96.52 mm) | 3.25 (82.55 mm) | 3.58 (90.93 mm) | 3.48 (88.40 mm) | 3.12 (79.25 mm) |
| 40 | 4.05 (102.90 mm) | 3.25 (82.55 mm) | 3.79 (96.27 mm) | 3.47 (88.14 mm) | 3.25 (82.55 mm) |
| 44 | 4.50 (114.30 mm) | 3.25 (82.55 mm) | 4.24 (107.70 mm) | 3.98 (101.10 mm) | 3.62 (91.95 mm) |
| 48 | 4.70 (119.40 mm) | 3.25 (82.55 mm) | 4.50 (114.30 mm) | 4.2 (106.70 mm) | 3.88 (98.55 mm) |
| 52 | 5.32 (135.13 mm) | 4.0 (101.60 mm) | 5.12 (130.00 mm) | 4.65 (118.10 mm) | 4.13 (104.90 mm) |
| 62 | 6" (152.4 mm) | 5" (127 mm) | 5.89" (149.6 mm) | 5.4" (137.16 mm) | 4.75" (79.25 mm) |
| 6" | | 6.5 (165.10 mm) | 8.60 (218.44 mm) | 7.98 (202.70 mm) | 7.25 (120.65 mm) |
Patents: USD6219135, USD 654,149S, US8,413,954B1